Unveiling Treasures: The O&P London Team's Favorite Items
In the enchanting world of fashion and style, boutiques offer a unique shopping experience that transcends the ordinary. At our boutique, we take pride in curating a collection of exquisite pieces that reflect our passion for fashion and our dedication to serving our customers. In this blog post, we invite you to discover a treasure trove of our team's favorite items, each handpicked with care and love. From clothing to accessories, these pieces hold a special place in our hearts and represent the essence of our boutique's style.
The Heart of Our Boutique
Before we delve into our team's favourite items, it's essential to understand the essence of our boutique's style. We are defined by our commitment to timeless elegance, sustainable fashion, and celebrating individuality. Our curated selection reflects these values, offering customers a unique blend of classic and contemporary pieces.
The Power of Personal Favourites
Our team members are more than just employees; they are fashion enthusiasts who bring their unique perspectives and tastes to our boutique. Their personal favourites not only showcase their individual styles but also connect with our customers on a deeper level. Let's explore some of their cherished selections.
Tiggy's Choice: Caroline Svedbom
Tiggy, co-owner of O&P London, has an impeccable eye for classic elegance. She loves a statement earring, which ties any outfit together to make an elevated look. With the coming season, she's got her eye on these Caroline Svedbom earrings, encrusted with multicoloured gems to coordinate with any look.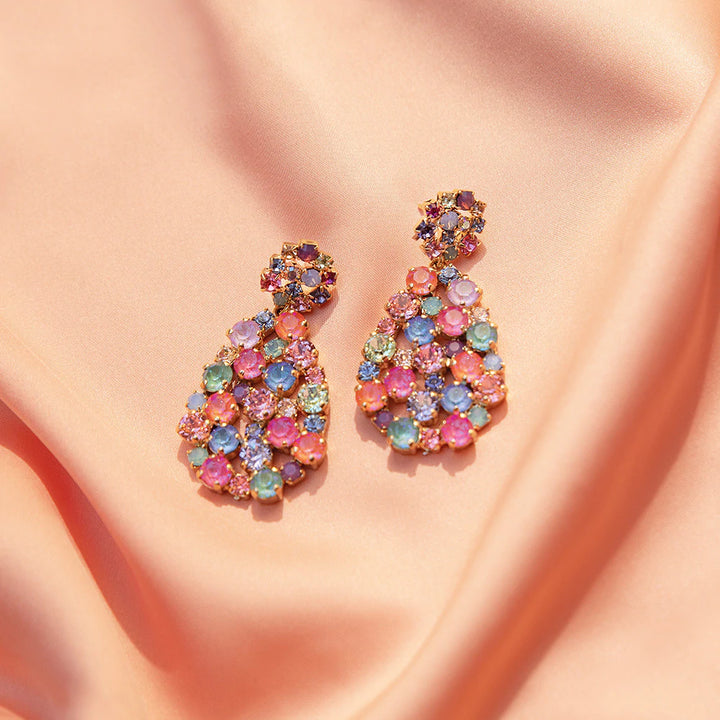 Judie's Must-Have: An embroidered headband from Powder
Judie looks fab with a headband, and she's always on the lookout for hair accessories for the boutique that go that step further in style. The new season range from Powder really is stunning and Judie is keen to try out the different colours and patterns on offer, especially this gorgeous 'Golden Wildflowers' slate velvet style.
Nicky's Wardrobe Essential: The Chunky Cardi
With the nights closing in and the temperature dropping, knitwear is definitely top of the team's priorities! Nicky has an eye for quality when it comes to this season's offerings and she particularly loves this longline cardigan by Cara & The Sky, a subtle hue of pink in a chunky knit that feels as cosy as it looks!
Sophie's Choice: The Statement Handbag
Sophie, busy mum of two, loves anything that's both practical and fun. A huge fan of colour to bring her outfits to life, she goes for bright accessories to lift an otherwise low key outfit. This season's drop of bags has Sophie jumping for joy. Her favourite? She can't decide! Any of the new metallic shades we stock at O&P London!
Jake's Passion: The Socks that speak volumes!
Let's not forget the gents! Jake (Tiggy's son BTW) works in the back office, making the website look fantastic and sorting stock for the shop. Always impeccably dressed in suit trousers and a freshly ironed shirt, Jake's all about the fun and has been collecting the Gent's socks from Powder since we started ordering them. This season is no different, and he's hoping these adorable 'Pug' socks will be in his stocking this year!
The Art of Curating Favorites
Personal Connection
The process of selecting our team's favorite items is deeply personal. Each item holds a special place in their hearts, often reflecting their unique fashion journeys and personal styles.
Customer Inspiration
Our team members draw inspiration from our customers' preferences and needs. By understanding what resonates with our clientele, they curate a selection that caters to a diverse range of tastes.
Bringing Our Favorites to You
In-Store Displays
To showcase our team's favorite items, we create eye-catching in-store displays that invite customers to explore these treasures. We provide styling suggestions and encourage shoppers to embrace their unique fashion journey.
 Online Experience
Our online platform allows our customers to explore our carefully curated fashion, accessories and gifts for adults, teens, kids and babies!
Conclusion
Our team's favourite items are more than just products; they are a reflection of our boutique's heart and soul. They represent the diverse tastes, personalities, and expertise of our team members, and they are a testament to our commitment to quality, sustainability, and personalised service. We invite you to explore these treasures and embark on a fashion journey that celebrates individuality and style.
---